Why gac?
Say hello to gấc. The superfruit with super powers.  
Packed with 90 different healing compounds, gac super fruit has been Asia's best-kept health and wellness secret for centuries. When mixed into a liquid form, gac is like a fountain of youth in your water bottle.
Supported by extensive scientific research, GacLife developed an all-natural gac-infused superfruit drink that can help protect your eyes, your skin and so much more. With no added sugar, no artificial sweeteners, flavors or preservatives and less than 25 calories?  
It's your superfruit drinks for healthy living. Wouldn't you drink to that?

The superfruit with the super weird name, gấc (Momordica cochinchinensis) is a rare fruit found only in Southeast Asia.
For thousands of years, the people of Southeast Asia have cherished this "fruit from heaven" for good reason. This prickly orange powerhouse is a treasure trove of nutrients and antioxidants.
 And we bet you've never heard of it.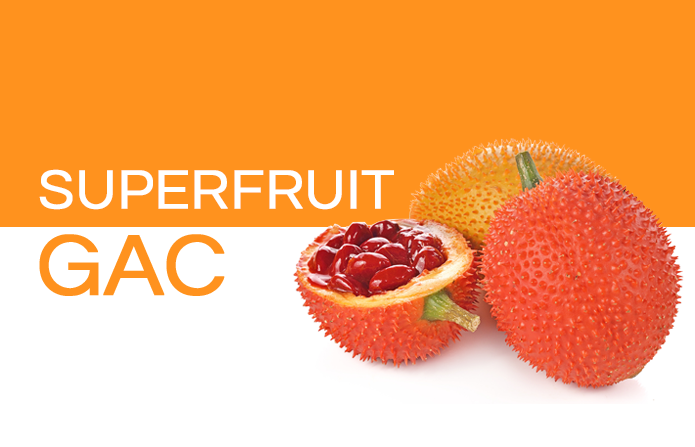 Named after the superfruit, gấc is drinkable health and wellness sent straight from heaven. But don't take our word for it. The science is real.
Here's what science geeks love about gấc.

A healthy diet, rich in antioxidants including carotenoids, could serve as the best preventive strategy against skin aging.
Gac friut contains more antioxidants, including Vitamins A,C, E, and flavonoids, polyphenols than you'll find in other fruits and vegetables.  But gac's biggest health & wellness boost comes from its mega high concentration of carotenoids that your body can actually absorb. It contains high levels ofα-carotene, β-carotene, lutein, zeaxanthin and lycopene.
The "low sugar" box is also checked. Gac is mild tasting, similar to avocados with cucumber-like aroma. It contains very little sugar  – only 7g sugar/100g fresh gac aril.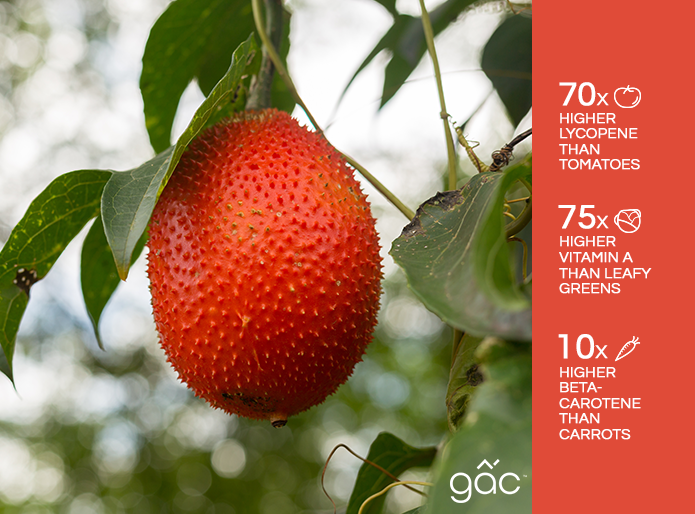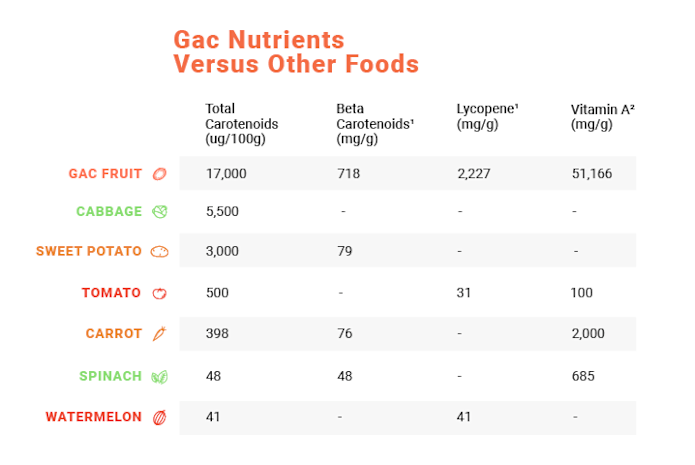 Gac fruit contains the highest concentration of carotenoids, one of the world's most potent antioxidants, than you'll find anywhere else. 
Carotenoids are cool.  But the key to absorbing them is their bioavailability (amount that your body actually digests and absorbs). And gac's natural carotenoids got that. Not only are the carotenoids available, they're bioavailable. Meaning your body can use and absorb them.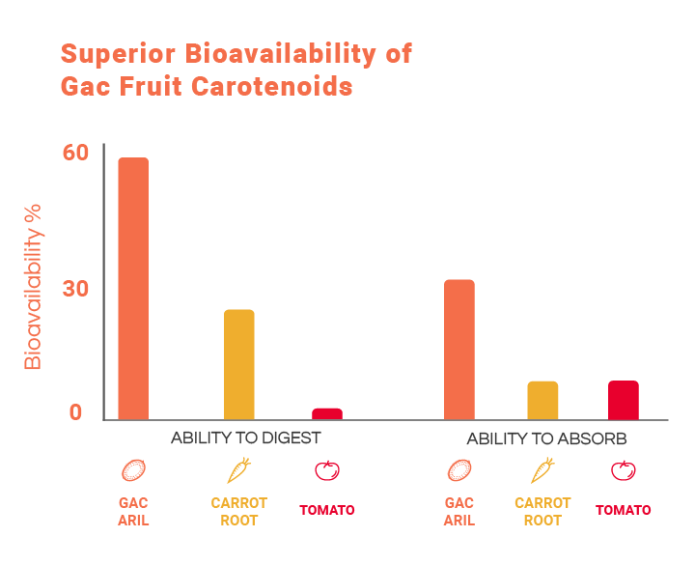 Our founder, Yin Zou discovered the magic of gac fruit firsthand on a business trip to Vietnam. Amazed by gac's refreshingly mild taste and health benefits, Yin noticed improvements in her skin, vision and overall energy level by making gac a daily staple in her diet. Yin was inspired to do more research and create a functional water to share with the world.
Based on extensive scientific research, Yin and her team took one of the world's rarest superfruits and bottled it for maximum health benefits.
Now you can choose from five, lip-smacking tropical fruity flavors mixed with either sparkling or still water. Pineapple, peach, passionfruit, lemon or mango. Yum.

How can a functional water that tastes so light and refreshing work so hard to keep you healthy, hydrated and protected? Glad you asked.
Here's what's in it: 
You may ask. How much is 20mg? What does it mean? Here is roughly what you'll need to eat to obtain 20mg of carotenoids.

Gấc's benefits is more than just skin deep. It's your beverage friend with benefits. Our drinks offer you antioxidants, including Carotenoids (lycopene, beta-carotene, lutein, zeaxanthin), Vitamins A, C, E, and other healing compounds naturally occur in gac. 
Gấc is antioxidant and pro health. Now that's a potent elixir.

Here's what gấc doesn't contain.   
No added sugars, no preservatives, and none of the yucky chemicals found in most functional water drinks, fruit juices and sodas that claim to be healthy.
Our ingredients are simple: water or carbonated water & fruit juices (not from concentrate). Each 12oz can contains only 0 ~ 3g sugar – all from 100% natural fruit juice. 

Stunning on the outside.  Smart on the inside. Just like your college crush. Made of 100% recyclable aluminum, our made-in-USA cans are eco-friendly and Mother Earth approved.

Hey, we know you're not going to give up your devices or your busy lifestyle.  You work hard. Isn't it time for a cool, new, functional wellness water that works as hard as you do? 
So you keep doing you.  Just add gấc into the mix and let your health and wellness flag fly.